Windows Backup Image
Generally, Windows backup image is a compressed file of your system, which contains all of the information on your computer at a particular state, including Windows operating system, all your installed programs, program files and program settings. This Windows backup image can be stored in external hard drive. You can restore Windows backup image to another computer quickly and easily if required. You can create Windows backup image with Windows snap-in program:
Click the Start button, then select Control Panel > System and Maintenance > Backup and Restore.
In the left pane, choose Create a system image, and then follow the steps in the wizard.
Besides, you can use the third party backup software to create Windows 7/8/10 backup image.
Why do you need Windows 7/8/10 backup restore?
It's always wise to play safe. In our daily life, you computer may meet some problems like hardware failure, software failure, computer theft, natural disaster and user errors, etc. To recover from these problems, you can restore the Windows operating system from a Windows backup file to the same physical computer or to a different hardware computer according to your needs. Restore windows backup to the same physical computer could be easy. However, how to restore a Windows system state backup from one computer to a dissimilar hardware computer while Microsoft does not recommend this way?
Note: Dissimilar hardware computer means that the computer has a different make, model or hardware configuration compared with source computer. Of course, even if the two computers have the identical makes and models, the destination computer may have different drivers, hardware, or firmware than the source computer.
How to restore Windows 7/8/10 backup to new computer?
In fact, Windows built-in backup program only backup data files that are saved in libraries, on the desktop, and in default Windows folders for all people with a user account on the computer; create system image; backup individual folders or drives. Nevertheless, Windows backup and restore program cannot backup the program files and create differential backup but full backup, schedule and incremental backup. Thus, you may find another backup program to do you a favor, like AOMEI Backupper Professional, which is a comprehensive backup and restore software for Windows users. It allows you to create full, incremental and differential backup, as well as the schedule backup. Besides, you are allowed to backup system, program files, partition, even the entire hard drive in Windows Vista/XP/7/8/8.1/10. Typically, the new computer has different hardware from source computer, so we will give you the best solution to restore Windows backup to new computer with dissimilar hardware.
Before restoring, you have something need to pay attention:
Download the program to have a try.

Make sure you have backup your Windows 7/8/10 operating system to external hard drive.

Create bootable media with AOMEI Backupper Pro to boot your new computer.
Now, the steps are here:
1. Boot your new computer with the bootable media, and connect your external hard drive (with Windows system backup image stored) to the new PC.
2. Open AOMEI Backupper Professional main window, click Restore tab and press Path find the Windows 7/8/10 system backup image manually.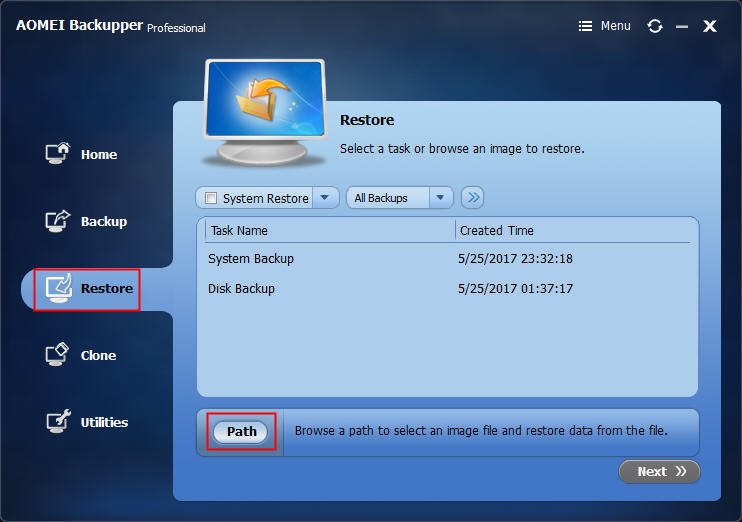 3. Choose a backup point, and click Next.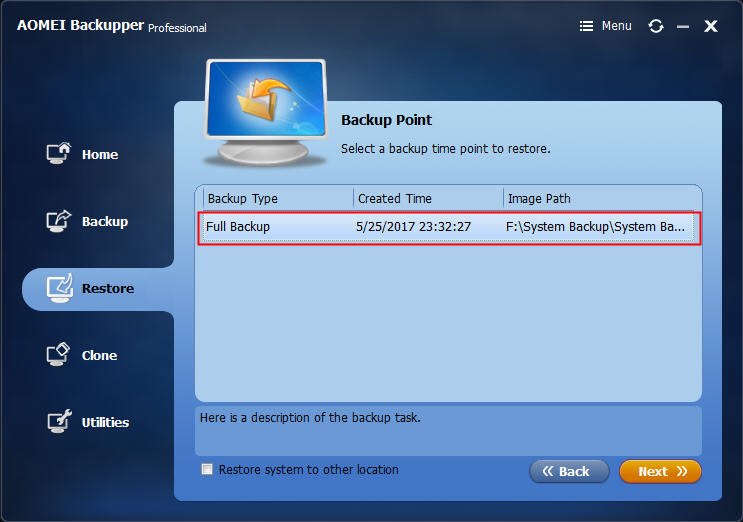 4. Select a destination to restore Windows 7/8/10 backup image, press Next.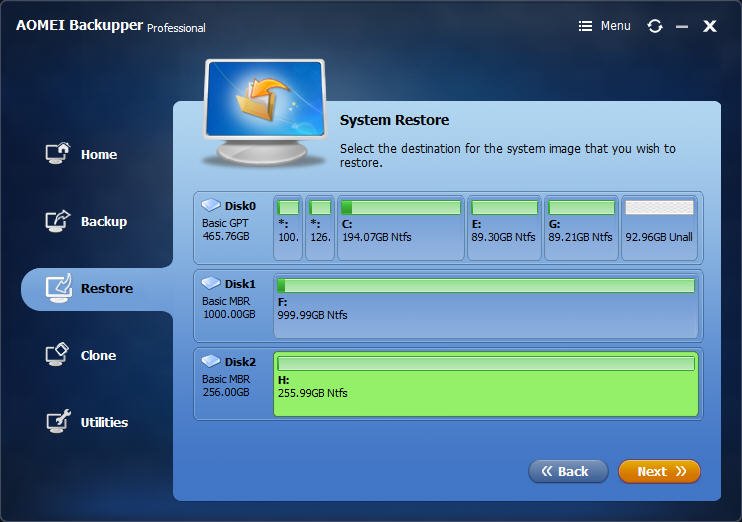 Tips: The destination disk will be overwritten after the operation, please backup your critical data in advance.
5. Click Start Restore to restore Windows 7/8/10 backup image to a new different hardware computer.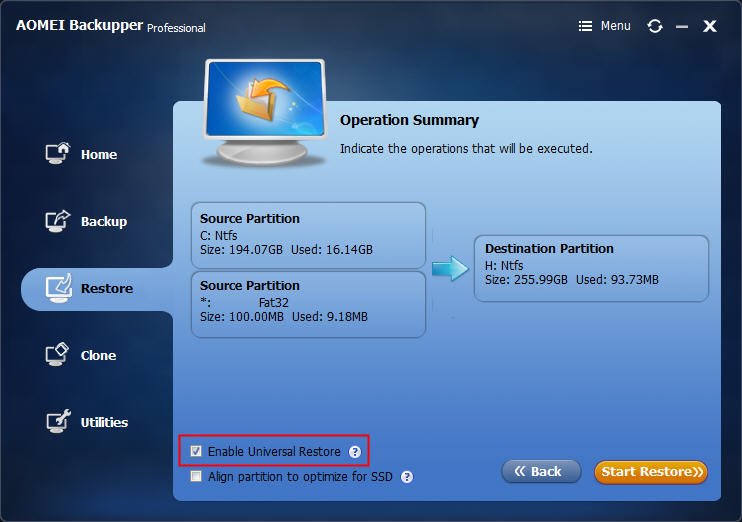 Tips: Make sure you have ticked the Enable Universal Restore option.
Now, restoring Windows backup to new computer has been completed successfully. After restoring, many other drivers, such as Display driver, NIC driver, or Audio driver, etc, need to be reinstalled and then the devices of the computer can be used normally. The process of restoration is quite easy. Besides, you can use AOMEI PXE boot tool to deploy a system in many computers, which may have dissimilar hardware configuration. With the software, you can merge backup images, clone system, deploy images to multiple computers, command line utility, etc.